ABOUT
Since its founding in 1948, Kaigado has built up a 70-year track record under the motto, "Enriching life through art." We began by introducing Japanese works to overseas clients, and since then, have added overseas works to our lineup. Kaigado has offered and continues to offer works in a range of genres to both our Japanese and global clients. In addition, we actively serve not only individuals but also companies. We have worked on over 500 projects so far, incorporating art into such facilities as hotels, commercial complexes, hospitals, senior housing, offices, and schools. We continue to seek to fulfill our unwavering commitment to expand opportunities for many talented artists and serve as a bridge between art and clients.
Company Name
KAIGADO CO.,LTD
Location
Imperial Hotel B1,1-1-1,
Uchisaiwaicho,Chiyoda-ku,Tokyo
TEL/FAX
03-3503-7988/03-3503-7069
Description of Business
・Sales of Artworks
・Framing, Binding and Mounting
・Art plannig and consulting for interior design
HISTORY
1948
Our gallery was established in 1948 by Ippei ARAI.
His father was a painter and an inventor,
Ippei ARAI had been heavily influenced by his father.
After graduating Tokyo University,
he opened the gallery at Gingu-gaien, Tokyo.

<創業当時の看板>
At the time of the foundation,
we have a small atelier of craftsman to frame pictures.
Foreign customers including the occupation army brought
their pictures to be framed.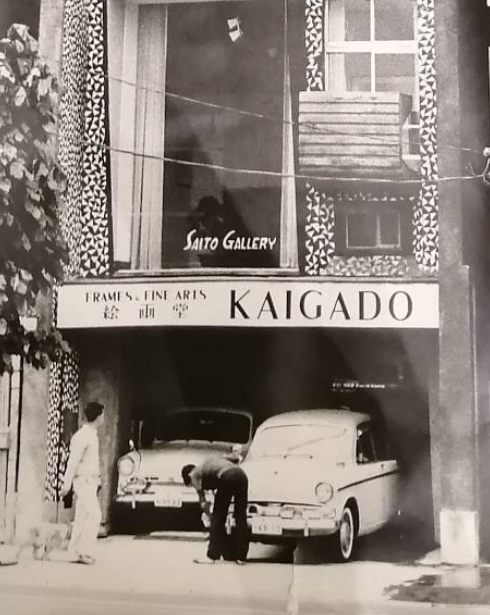 <村田豊氏設計の絵画堂ビル>
1964
Opened a branch at Hotel Okura Tokyo in 1964.
1970
Closed Aoyama gallery and opened new gallery at Imperial hotel arcade in 1970.
2003
Closed the gallery at Hotel Okura Tokyo in 2003.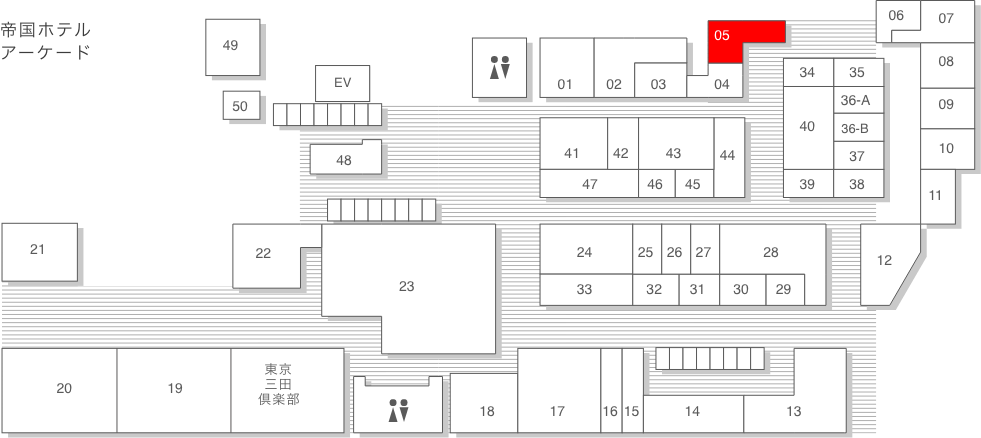 1.TOWEL SALON CARA CALLA
2.TORAYA/ TEA ROOM TORAYA KARYO
3.LADIES ARTNATURE
4.THE GINZA
5.KAIGADO GALLERY
6.BARBER OIKAWA
7.HOLLYWOOD MAY&JENNY USHIYAMA
8.ROYAL ALPACA
9.ICHI-FUJI
10.CANDY KIDS
11.KODAIMARU
12.HANAE MORI
13.GODIVA
14.ABISTE
16.HAWICO SCOTLAND
17.PG GAUXE
18.MORABITO
19.BOUTIQUE ROSSA
20.ITALIYA
21.KNIT IWASAKI
22.SUSHI NAKATA
23.JAPANESE CUISIINE TOKYO NADAMAN
24.UYEDA JEWELLER
25.TORII
26.MOH LONG
27.Y・OHMIYA
28.ASAHI PEARLS
29.KITTY'S
30.TANI SHIRT
31.ROYAL CHIE FUTABA FUR
32.BLANC VERT
33.COHRAI
34.LIEBE
35.BOUTIQUE HAKUSUI
36-A.SOKENDO/ SAMURAI SWORD
37.SG GOTO
38.NORITAK & OKURA
39.BOUTIQUE K
40.TAKASHIMAYA BOUTIQUE
41.MAYUYAMA JEWELER
42.BELLA SPIGA
43.MUSE
44.ORBITA
45.MARIANELLI MADAME
46.ATELIER SAGAN
47.SHOBIDO HONTEN
48.HIBIYA KADAN
49.KOMA
50.KOYASU DRUG STORE
1.TOWEL SALON CARA CALLA
2.TORAYA/ TEA ROOM TORAYA KARYO
3.LADIES ARTNATURE
4.THE GINZA
5.KAIGADO GALLERY
6.BARBER OIKAWA
7.HOLLYWOOD MAY&JENNY USHIYAMA
8.ROYAL ALPACA
9.ICHI-FUJI
10.CANDY KIDS
11.KODAIMARU
12.HANAE MORI
13.GODIVA
14.ABISTE
16.HAWICO SCOTLAND
17.PG GAUXE
18.MORABITO
19.BOUTIQUE ROSSA
20.ITALIYA
21.KNIT IWASAKI
22.SUSHI NAKATA
23.JAPANESE CUISIINE TOKYO NADAMAN
24.UYEDA JEWELLER
25.TORII
26.MOH LONG
27.Y・OHMIYA
28.ASAHI PEARLS
29.KITTY'S
30.TANI SHIRT
31.ROYAL CHIE FUTABA FUR
32.BLANC VERT
33.COHRAI
34.LIEBE
35.BOUTIQUE HAKUSUI
36-A.SOKENDO/ SAMURAI SWORD
37.SG GOTO
38.NORITAK & OKURA
39.BOUTIQUE K
40.TAKASHIMAYA BOUTIQUE
41.MAYUYAMA JEWELER
42.BELLA SPIGA
43.MUSE
44.ORBITA
45.MARIANELLI MADAME
46.ATELIER SAGAN
47.SHOBIDO HONTEN
48.HIBIYA KADAN
49.KOMA
50.KOYASU DRUG STORE